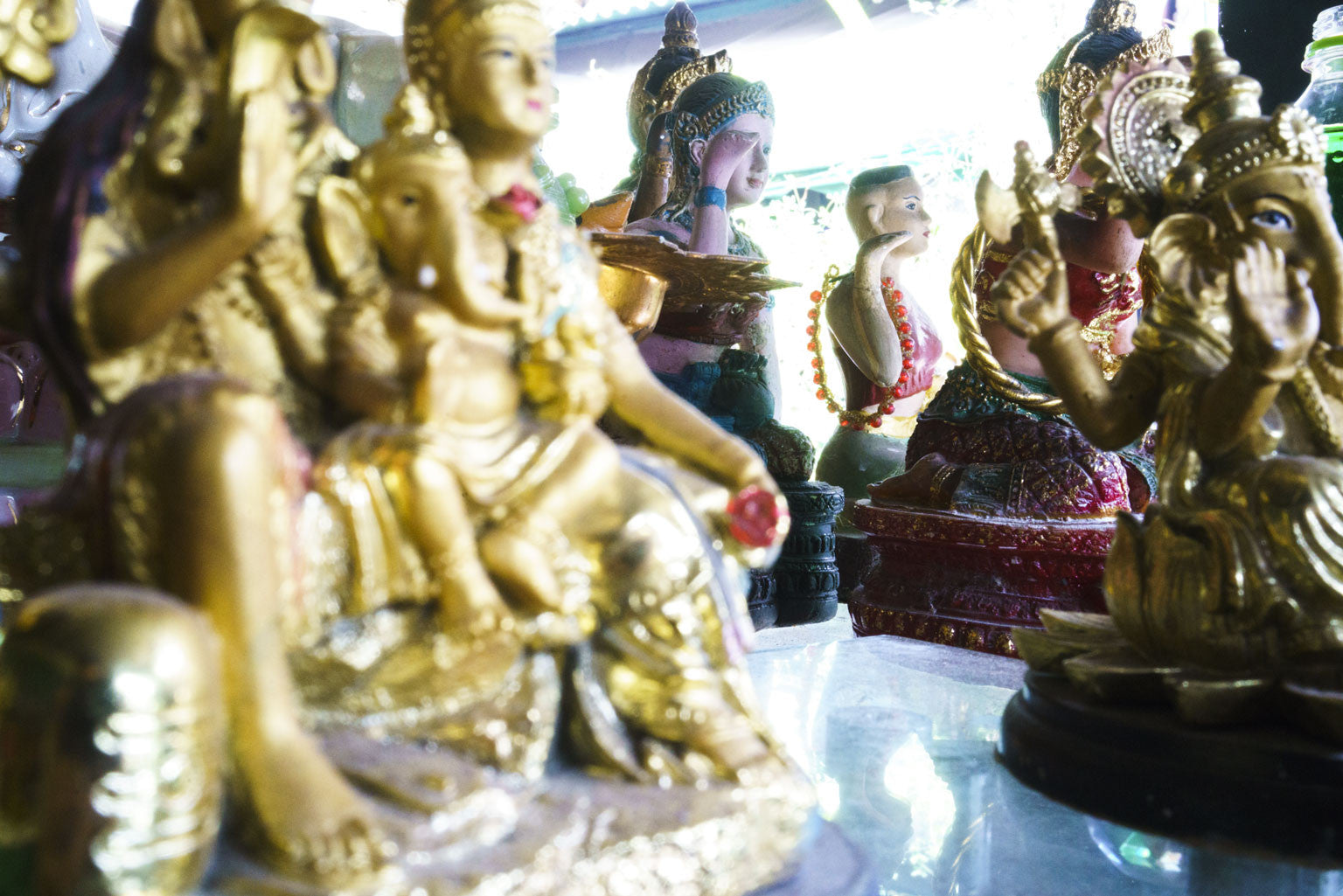 BANGKOK, THAILAND
Travel Notes
Bangkok, the seemingly endless metropolis of over eight million inhabitants, is a thoroughly modern city whose charm is best found on foot and by wandering through the narrow residential alleyways of the older districts, including Ban Bat in the old city's temple supply neighborhood. Often behind closed gates or tall walls, the hidden gems that we uncovered would have been nearly impossible to find without our indispensable guide, Kob, who serves as a local expert working closely with our friends at Indagare Travel.
Currency
Baht

Time Zone
Indochina
Language
Thai

Local Cuisine
Thai
Best time to visit
Year-round

Dress Code
Vibrant Silks
WHERE TO STAY
3/2 Thanon Khao
Bangkok 10300
Thailand
+66 2 206 6999
48 Oriental Avenue
Bangkok 10500
Thailand
+66 2 659 9000
333 Charoennakorn Road
Bangkok 10600
Thailand
+66 2 020 2888
WHERE TO DINE
3/2 Thanon Khao
Bangkok 10300
Thailand
+66 2 206 6999
233 South Sathorn Road
Bangkok 10120
Thailand
+66 2 673 9353
233 South Sathorn Road
Bangkok 10110
Thailand
+66 2 673 9353
WHAT TO VISIT
BUDDHIST TEMPLES
WAT ARUN
158 Thanon Wang Doem, Khwaeng Wat Arun
Bangkok 10600
Thailand
WAT PHRA KAEW
Phra Borom Maha Ratchawang
Bangkok 10200
Thailand
WAT PHO
2 Sanamchai Road
Bangkok 10200
Thailand
WAT SAKET
344 Khwaeng Ban Bat
Bangkok 10100
Thailand
WHERE TO SHOP
9 Soi Thesa Bamroongmuang Road
Bangkok 10200
Thailand
+66 2 221 8070
BAN BAT
Ban Bat Village
Bangkok 10100
Thailand
3/2 Thanon Khao
Bangkok 10300
Thailand
+66 2 206 6999
REQUIRED READING
The Objects
Exclusive Edition 013 Ban Bat Alms Bowls
The village of Ban Bat is believed to be the last remaining village in Thailand making handmade Alms bowls for Thai Buddhist monks. The village was commissioned the eighteen century by King Rama I to perfect the craft of making these bowls which would be used to by the monks to collect their daily meals. Each bowl is crafted by a series of artisan masters working together to construct the bowls to the highest quality and to last a lifetime.
The Story
THE TEMPLE'S TOILERS
Mayuree Sueriserm was born into the craft of making alms bowls by hand in the village of Ban Bat, where the tradition has subsisted since a royal decree in the eighteenth century. Mayuree left school at an early age to work amongst her family and became one of the few women to master each step of the arduous process of bowl making. Her daughter, Maneerat Nakrat, is working alongside her mother to ensure their craftsmanship continues to be relevant for the benefit of the community artisans and the devout Buddhist monks who use this bowls, as Ban Bat is the last of the villages to preserve this invaluable cultural legacy.