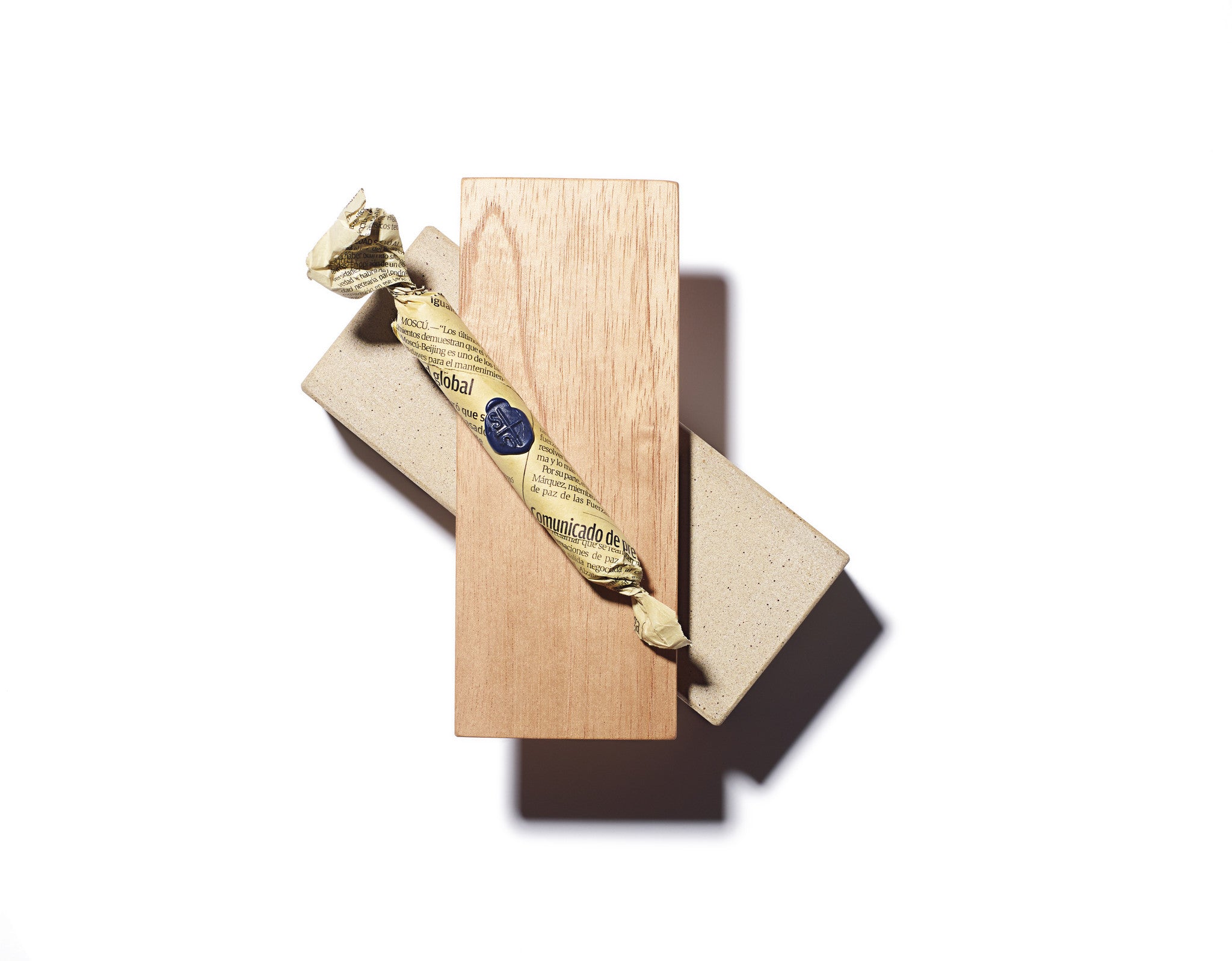 Cigarro Puro Humidor, $150
Exclusive Edition Cigarro Puro Humidor in fragrant Spanish cedar and stone clay. Designed for Stories+Objects by Marie Perrin-McGraw and Jacob Van Vranken, each cigar humidor comes with a souvenir cigarro puro hand-rolled in the illustrious tobacco region of Pinar de Río, Cuba.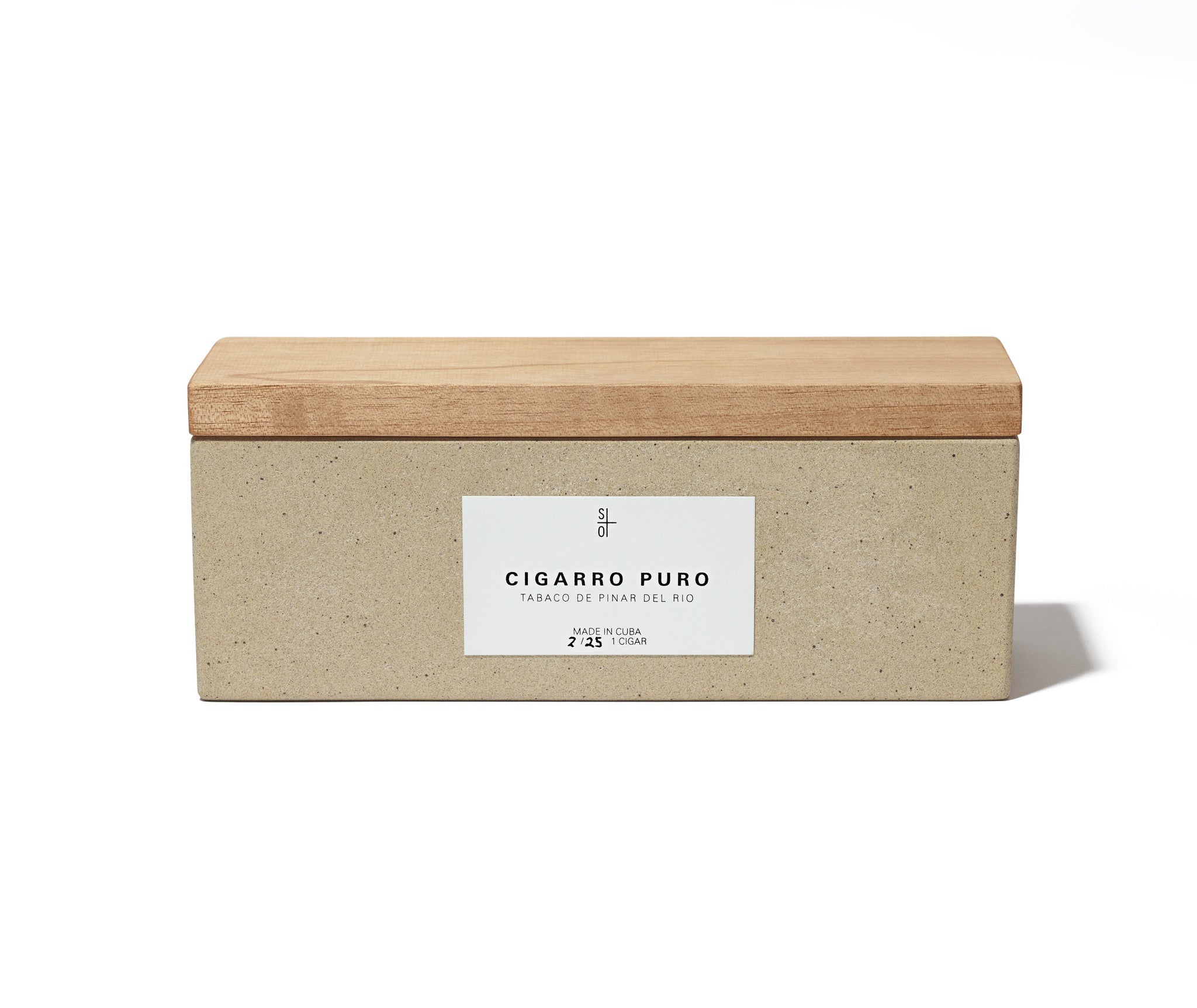 The Story
AN HOMBRE HABANO
Hector Luis Prieto was thirty-six years old in 2007 when he was awarded the prestigious honor of Hombre Habano, an annual award for the best quality production of tobacco in the cigar industry.As the youngest Hombre Habano in history, having won the award multiple times ever since, Prieto's San Juan y Martinez plantation provides Cuba's Habanos S.A. with one of the most exceptional tobacco blends, grown exclusively for the country's premium cigar brands Cohiba, Montecristo and Romeo y Julieta.
The Story
THE LEGACY OF TOBACCO
Hirochi Robaina is a fifth-generation tobacco farmer in Vuelta Abajo, Cuba's illustrious, tobacco-growing region situated in San Luis, Pinar del Río.

Following the traditions of his ancestors, and most notably of his grandfather Don Alejandro Robaina, Hirochi is at the helm of La Finca El Pinar Robaina, perhaps the most famous tobacco farm in the region, if not the world. Initially known for the high yield of quality tobacco for the wrapper, which is the most difficult to produce, the plantation now focuses its tobacco production on the Vegas Robaina premium cigar brand, exclusively distributed by Habanos SA, the Cuban state-owned tobacco company.
The Destination
Havana, Cuba
Havana, the capital city of the nostalgic, forbidden isle of Cuba, was founded in 1514 as a strategic location for the Spanish conquest of the Americas by the explorer Diego Velásquez. Its low-lying colonial architecture is melded in with towering Brutalist structures that are both often aging in beautiful decay. Havana is sensory overload. Its colorful character, that of the city and of the people, and the music that fills the dance halls into the streets carry an optimistic spirit that is as refreshing as it is puzzling given the scarcity on the island. Those who take the chance to visit before inevitable change comes to call will forever romanticize the moment when Cuba was both a glamorous time capsule and Cold War relic.
The Destination
Pinar Del Río, Cuba
Pinar del Río is a province on the westernmost tip of Cuba. It features some of the most beautiful landscapes on the island, from steep limestone mogotes and verdant green valleys to turquoise waters. The microclimates and incredibly fertile soils have made the area one of the best tobacco growing regions of the world. Although the accommodations and overall tourist infrastructure leaves a bit to be desired at this time, some of the most authentic Cuban experiences await travelers willing to explore a few hours outside of Havana and adjust to the country pace of life in the province.